What a pleasure it was for @Apgar's team to meet, share and discuss with data enthusiasts from all over the world. We would like to thank those who swang by our booth during Gartner Data & Analytics Summit ! 🤜 🤛

For those who missed it, we're thrilled to present the second episode of our series dedicated to Data Management trends and news.
📚 In this episode, we are offering complimentary access of an analyst report on the latest findings in augmented data management. According to Gartner® report: Data Management Solutions Finally leverage Foundational Concepts "the application of artificial intelligence and machine learning techniques plays a key role in helping organizations automate, discover and recommend prescriptive actions to optimize their use of data".
🔎 Use the 2023 Predictions on "Data Management Solutions" by Gartner® to plan for and invest in a data-driven future.
👇 Access the report now! 👇
https://bit.ly/reprint-gartner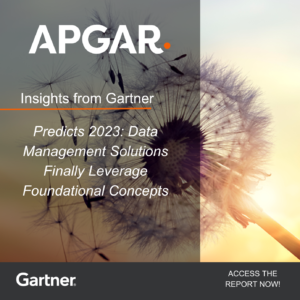 👀 Thanks to the Gartner Analysts for their insights @Adam Ronthal, @Donald Feinberg, @Mark Beyer, @Ehtisham Zaidi, @Melody Chien, @Robert Thanaraj
👋 See you next year for #GartnerDA Summit 2024, where we anticipate even more innovative insights and predictions in the field of data management! 🎉
#Gartner #DataAnalyst #Pioneer #2023trends #DataManagement #Apgar #optimize #TechnologyTrends