Apgar at Gartner® Data & Analytics Summit - London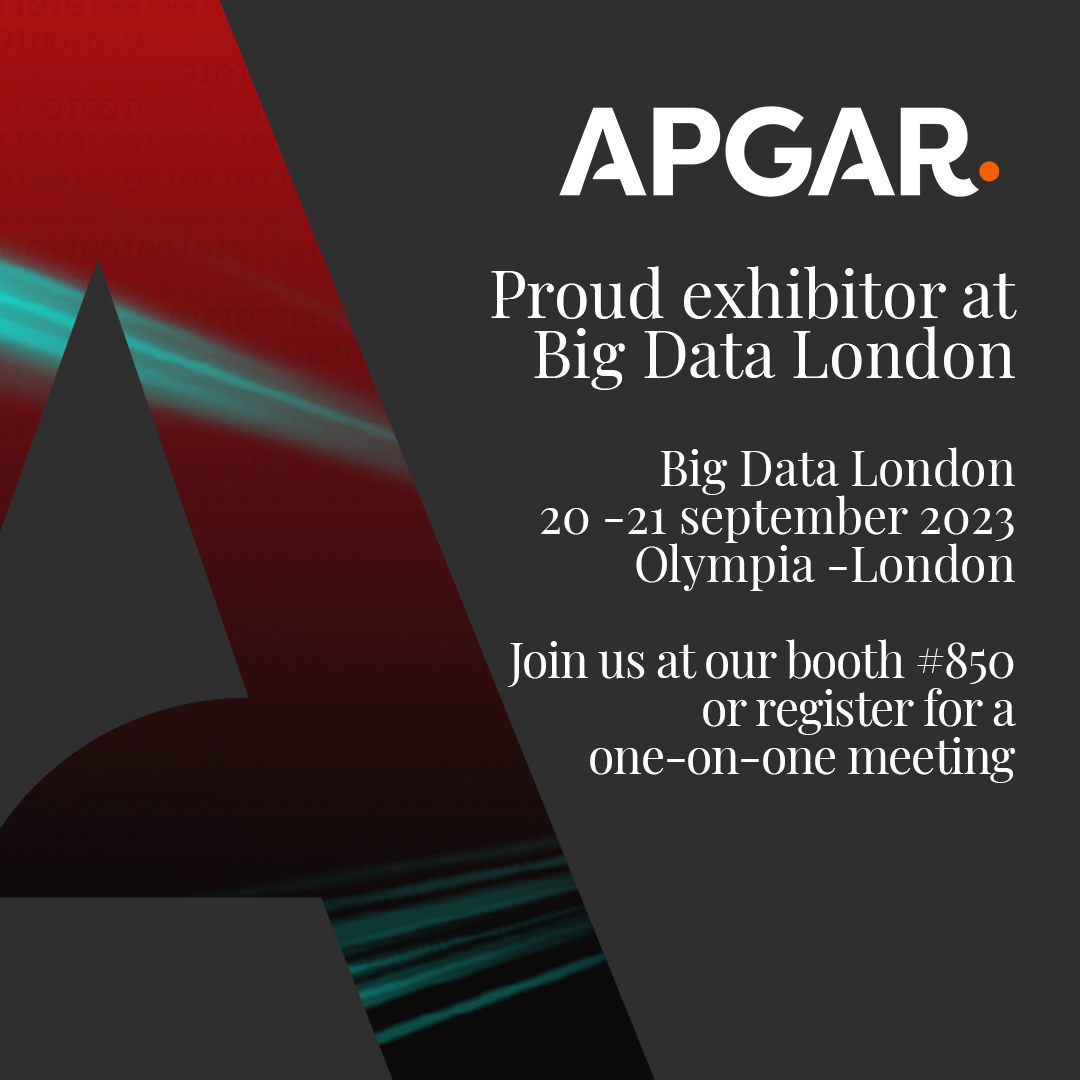 Apgar at Gartner Data and Analytics
Join APGAR, a leading advisory and service company, at Big Data London 2023. APGAR specializes in assisting companies to make data the core of their strategy. With over 180 consultants working daily on Data Management topics across various countries and industries, we offer a wide range of services such as consultancy, implementations, change management, support, and training. Join us at the summit to explore how you can unlock the full potential of your data and drive better business results.
Event information
Date: 20-21 September 2023
Location: Olympia Way, London W14 8UX, United Kingdom.
You can engage with us in various ways:
– Booking a one-on-one meeting to discuss your data challenges and desired outcomes. Fill out the form, and our team will be in touch to schedule a short meeting on-site.
–Meeting with us at our APGAR booth #850 during exhibit hours
– Joining us for a networking cocktail. After an exciting day one at Big Data London, unwind and network with us at the stunning Orangery in Kensington Palace Gardens. Enjoy cocktails, hors d'oeuvres, and discuss event takeaways and key learnings with your fellow data enthusiasts.
📅 Date: September 20th, 6:00 PM – 9:00 PM BST
📍 Venue: The Orangery at Kensington Palace Gardens
Register here: https://www.datagalaxy.com/en/events-webinars/post-big-data-ldn-cocktail/
To get more details on the Big Data London, review the agenda, and register for the conference, visit the Big data London event site.
Meet your Apgar team at Gartner
.
Pedro Pinho

CEO - Iberia and Netherands

Pedro Farinha

APGAR UK, Nordics & Iberia General Manager

Rita Pinto

Technical Consultant

Mário DUARTE

Business Director, Head of AI & Advanced Analytics